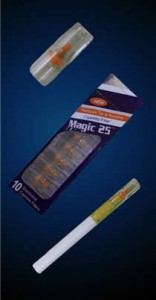 Magic 25 Cigarette Filter Tips
10 Pack Now For Just $3.49
100 Packs Now Only $22.99
Cigarette filter tips are designed to help reduce the amount of nicotine and tar that is inhaled when smoking.  Using a cigarette filter tip is an excellent choice for those who like to enjoy a light smoke.
These cigarette filter tips are perfect for enjoying with the cigarettes you are making with whole leaf tobacco.
The orange or green cartridge is the main component of the filtration system.
Each puff off your cigarette pulls air through the filtration system.
Each cigarette filter tip is clear, allowing you to see the amount of tar that builds up on the filter.
Each Magic 25 cigarette filter tip is good for 5-7 cigarettes!
Cigarette Filter Tip Instructions: Place the cigarette filter tip on the end of a cigarette and smoke.  Some filters require you to squeeze the filter end to attach the cigarette.  Change the filter tip when the tar and nicotine indicator is covered in such.