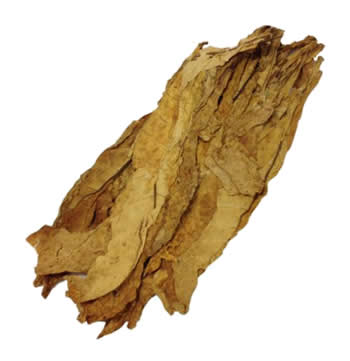 Smooth / Flue Cured Brightleaf Virginia Tobacco
Now Only $19.99 / LB
Smooth / Flue Cured Brightleaf is a sweeter and fuller-tasting tobacco.  This leaf is packed & pressed into bales at the farm, but you will still get abundant beautiful whole leaves.  This type of leaf is primarily used for cigarette blends, so the condition of the leaf will not be 'wrapper quality'.  Don't forget to take a look at a similar offering in the Sweet Brightleaf Virginia Flue Cured Tobacco leaf | Click Here To Check It Out
This Virginia Brightleaf strain of whole-leaf tobacco has mild yet full smoke.  It's excellent alone but can also blend well with other kinds of tobacco.
Virginia Flue Cured Tobacco is also known as Golden Leaf Tobacco.
Virginia Brightleaf smooth is one of the tobacco industry's most commonly used tobacco leaves.  It is essential in cigarette blends, hookah, and pipe tobacco.
To convert these leaves to MYO, RYO, or for use in pipes, check out the Powermatic Electric Tobacco Shredder.
Our Virginia Brightleaf tobacco is delivered to you in the same condition as when it was picked, other than being cured and pressed for shipment & handling.
Virginia Brightleaf tobacco comes 'uncut', but it is still not 'wrapper' grade leaf and is not handled in the same way as whole cigar leaves.
Interested in purchasing a quantity of Smooth / Flue Cured Brightleaf Tobacco at the incredible prices listed below? Contact us to set up your order now.
EXAMPLE TIERED PRICING:
| | |
| --- | --- |
| LBS | Price |
| 10-19 | $14.00 |
| 20-49 | $12.00 |
| 50-99 | $10.00 |
| 100-199 | $9.00 |
| 200-499 | $8.00 |
| 500-999 | $6.50 |
| 1000-9999 | $5.00 |
| 10000+ | $4.25 |