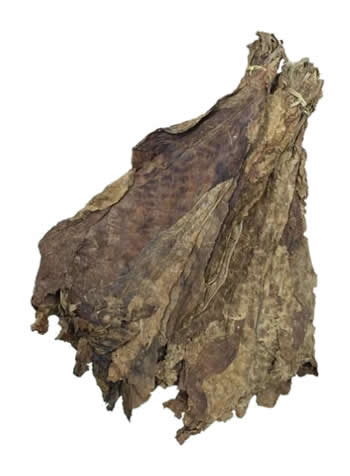 The Indonesian Kasturi Filler Tobacco
Now Only $14.99 / LB
This tobacco is grown in Kasturi, East Java, Indonesia, and this leaf is primarily used to produce local Kretek (clove) cigarettes.
The Kasturi Filler has a very unique, almost spice-like smell. It's quite clear why they are primarily used in clove cigarette blends.
This leaf is nothing like the Bezuki or Sumatra filler leaves.
Known as the "early crop" of the year in Indonesia, this leaf is fermented sun cured.
The quality of this leaf in terms of wrapper condition is considered very poor.
Some leaves without much damage can be found, but only very few if any.
Interested in purchasing a quantity of Indonesian Kasturi Cigar Filler at the incredible prices listed below?  Contact us at 1.802.776.8983 to set up your order today.
EXAMPLE TIERED PRICING:
| | |
| --- | --- |
| LBS | Price |
| 10-19 | $13.00 |
| 20-99 | $12.00 |
| 100-249 | $11.00 |
| 250-999 | $10.00 |
| 1000+ | $8.00 |