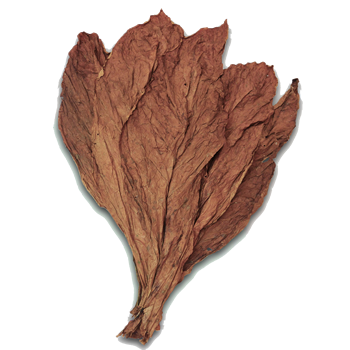 Organic Pennsylvania Broadleaf Tobacco
Now Only $19.99 / LB
We are excited to now be carrying USDA Certified Organic Pennsylvania Broadleaf.  Don't miss your chance to stock up on this classic while you have the chance, Pennsylvania broadleaf is a customer favorite and tough to keep in stock!
This certified Organic Broadleaf is grown in Pennsylvania from Pennsylvania Broadleaf seed.
This light brown cigar wrapper leaf is most similar to our other popular Pennsylvania broadleaf, the QB52 fronto.
This Organic Pennsylvania Broadleaf smokes very smooth.
Comparable to the fronto sold at city convenience stores and specialty shops.
This unsorted Organic Pennsylvania Broadleaf is the first organic cigar tobacco leaf, to have available for sale.
Because this leaf is 'unsorted', it will arrive in all grades throughout each pound; wrapper, binder, filler and fronto.
After years of research and development, we have become certified to hold and sell organic tobacco.  We have also found quality sources for our very first organic whole leaf tobacco selection.
This leaf is originally grown in the state of Pennsylvania.  If you are familiar with our other broadleaf tobacco's that are grown in Pennsylvania [QB52 Fronto], you will know what to expect from this tobacco.  Except you can prepare yourself for a higher quality, and more enjoyable tobacco, with a more pungent flavor than the standard offering.