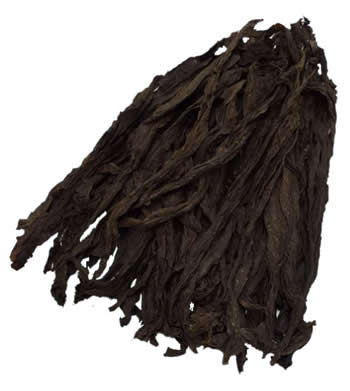 Saint James Perique Pipe Tobacco Leaf
Now Only $64.99 / LB
Saint James Perique tobacco leaf is quite rare.  Our genuine Saint James perique whole leaf tobacco is grown and cured by a small family farm in rural Saint James Parish that has been producing high quality barrel-cured perique pipe tobacco for generations.
Saint James Perique tobacco leaf is highly regarded as the truffle of pipe tobaccos.  Saint James Perique is used as a component in many blended pipe tobaccos, and is best smoked in a blend because many smokers consider it too strong to be smoked standalone. If you are looking for a more mild Virginia Flue Cured to blend, check out our Canadian Virginia Flue Cured Tobacco Leaf. To convert these tobacco leaves into RYO, MYO, or pipe tobacco, check out our tobacco leaf shredders!
Saint James Perique is very hard to find in a whole leaf tobacco form [main stem in-tact]. With just a little air drying, the leaves quickly brown and are cleaned and packed into hickory whiskey barrels. The tobacco leaves are kept under pressure using oak blocks and massive screw jacks, forcing virtually all of the air out of the moist leaves. Approximately once a month the pressure is released, and each section is worked by hand to allow some air back into the tobacco. After a year of this treatment process, the perique is ready for smoking consumption.  Even though at this point it may be kept fresh under pressure for many years, due to the preserving effects of the curing process.
Interested in purchasing a quantity of Saint James Perique Tobacco Leaf at the incredible prices listed below? Contact us to set up your order now.
EXAMPLE TIERED PRICING:
| | |
| --- | --- |
| LBS | Price |
| 10-19 | $55.00 |
| 20-49 | $52.00 |
| 50+ | $48.00 |