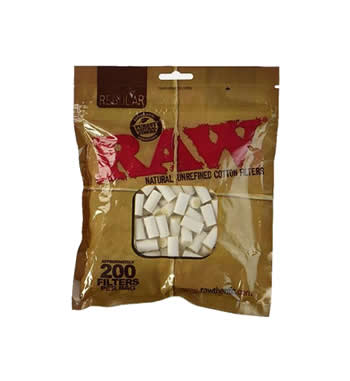 RAW Cotton Filter Tips – Regular Size
[200 filters per bag]
1 Bag Only $4.99
RAW cotton filter tips are manufactured with Natural Unrefined / Unbleached cotton, which gives them a natural brown color.  There are 200 'regular' sized cotton filter tips per bag.  RAW does not use chemicals or additives in any of their products, so they decompose completely naturally.  This product is made in the country of Lebanon.
All RAW brand products are all natural and come in a variety of sizes and style to suit your rolling needs.
RAW Rolling Papers is originally by the 'Juicy Jay's' rolling paper company, and are some of the most well known rolling papers available today for cigarette rolling and otherwise.