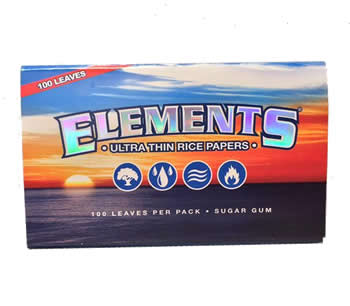 Elements Single Wide Rice Rolling Papers
1 Booklet Only $1.99 [33 papers per booklet]

1 Box of 25 Booklets Only $34.99 [Only $1.40 per unit]
Elements Single Wide Rice Rolling Papers are made 100% from Rice and Sugar, with zero additives or chemicals, and you get 33 rolling papers per booklet.
These high end rice based rolling papers are designed to burn with next to no ash, except the natural sugar gum turning into caramel as it burns down.
Element's paper machines are all powered by Wind based energy, these papers truly are one of the most environmentally friendly and cleanest smoking rolling paper products on the market.