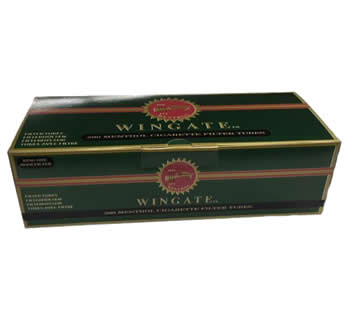 Wingate King Size Cigarette Tubes | Menthol Flavor
– 200 Count Cartons Only $3.99
– Bundle of 5 Cartons Only $19.59 [$3.92 per carton]
These Wingate King Size cigarette tubes are a higher quality 'Menthol Tube' made by the same company as the Vera Cruz products.
This is a king sized menthol cigarette tube made by the geniuses over at Wingate. It has a similar construction and style as the Vera Cruz line of cigarette tubes. Why buy cigarette tubes elsewhere when they can arrive safely in your package of whole leaf tobacco and other accessories?
King Size Menthol Cigarette Tubes by Wingate are some of the best quality tubes available on the market today.
We highly recommend using either the Powermatic Electric Tobacco Shredder or the Manual Tobacco Leaf Cutter coupled with the Powermatic Electric Cigarette Injector for the most convenient cigarette making experience.
Using King Size Cigarette Tubes is an excellent way to save money on tobacco.