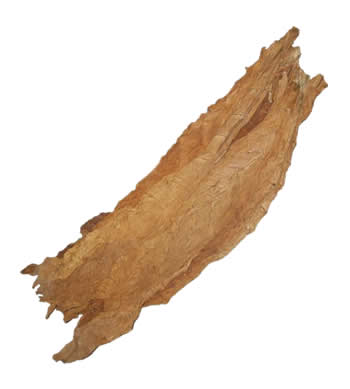 Aged / Uncut Burley Tobacco Leaf
Now Only $18.99 / LB
was $23.99 / LB
Grade A, all natural burley tobacco leaf is a special leaf that is used for similar purposes as Canadian Virginia Flue Cured, as it is only available in a chopped format.  This is a naturally aged whole leaf tobacco that is available in virtually any quantity.
Also known as 'light air cured' and is commonly used alongside Canadian Virginia Flue Cured in many cigarette blends.  Occasionally it is used as cigar filler, for pipe blends or chewing tobacco leaf.
This is hands down the freshest burley tobacco leaf available, it arrives with a chocolate aroma and has the consistency of the finest burley money can buy.
This aged burley tobacco leaf smokes more smoothly than the non-aged version.
Not a wrapper grade leaf, as it is not handled in the same way, but it is also not considered commercial-grade chopped burley either.
To prepare these leaves for 'roll your own' use, you will need a tobacco leaf cutter and we recommend the Powermatic Electric Tobacco Shredder.
For those without a cutter, you can still shred it by hand.
Roll your cigarettes knowing the contents haven't been handled by a commercial processor.
Interested in purchasing a quantity of Aged / Uncut Burley Tobacco Leaf at the incredible prices listed below? Contact us to set up your order now.
EXAMPLE TIERED PRICING:
| | |
| --- | --- |
| LBS | Price |
| 1-9 | Now Only $18.99 – was $23.99 – |
| 10-19 | $17.00 |
| 20-49 | $15.00 |
| 50-99 | $13.00 |
| 100-199 | $11.00 |
| 200-499 | $10.25 |
| 500-999 | $9.25 |
| 1000+ | $8.25 |