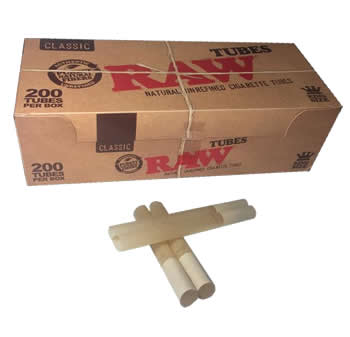 RAW Natural Unrefined King Size Cigarette Tubes
– 200 Count Cartons Only $14.99
NEW from RAW – All Natural, Unrefined Cigarette Tubes!
Our RAW Natural Unrefined King Size Cigarette Tubes are available for use with all our standard cigarette tube injectors, these RAW Rolling Paper cigarette tubes are Vegan friendly, Non-GMO, and Chlorine free. Made in Alcoy Spain with the same RAW rolling paper you have come to know and love.
RAW King Size Cigarette Tubes are enjoyed by whole leaf tobacco connoisseurs and people who love high end MYO/RYO cigarettes.
We highly recommend using either the Powermatic Electric Tobacco Shredder or the Manual Tobacco Leaf Cutter coupled with the Powermatic Electric Cigarette Injector for the most convenient cigarette making experience.
Using King Size Cigarette Tubes by RAW is an excellent way to save money on tobacco.