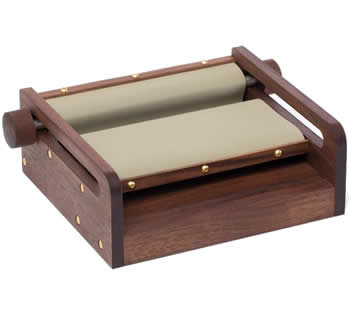 Tumbleweed Handcrafted Cigarette Roller Machine
Now Only $149.99
This Tumbleweed Handcrafted Cigarette Roller Machine is a mid size cigarette rolling machine made for your rolling convenience. It's designed for cigarette rollers who are on the move.
This wooden cigarette rolling machine has a solid construction that will allow you to take it to events, music festivals or wherever without fear of damage.  This Tumbleweed rolling machine will help you consistently roll the perfect 6″ cigarettes.
If you don't want to roll jumbo sized smokes, it is also designed to quickly and easily roll two cigarettes at a time. This cigarette roller machine works with all standard size rolling papers, filters, crutches and even blunt wraps if you so choose. You can master using this roller machine in minutes and it will last you a lifetime!
This awesome cigarette rolling machine measures roughly 6″ x 6″ x 2.5″ and weighs in at a little over 1 pound. They are handcrafted from sustainable / local sources and 100% made in the USA.