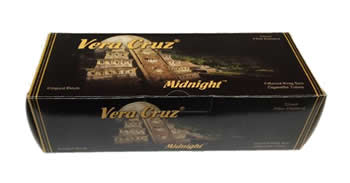 Vera Cruz Midnight Tubes
Now Only $4.99 / pack
After many requests, we have finally stocked these Vera Cruz Midnight Tubes for making your own cigarettes.  Vera Cruz Midnight Tubes are one of the only black colored cigarette tubes on the market.
Vera Cruz Midnight Tubes give a classier, more sophisticated feel to your smoke.
Vera Cruz Midnight tubes are pitch black in color.
Sometimes associated with Kretek or Clove cigarettes, these black papers are absolutely perfect for general RYO / MYO cigarettes and are sure to give your smokes a unique style!
Why buy cigarette tubes elsewhere when they can arrive safely in your package of whole leaf tobacco and other tobacco accessories?