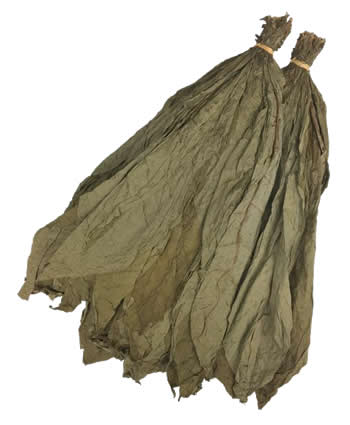 Ecuadorian Candela Wrapper | Green Cigar Wrapper Leaf…
Now Only $44.99 / LB
Ecuadorian Candela Leaf is an incredibly rare tobacco leaf, known primarily for its looks! The green color of this leaf is obtained by quickly harvesting, and speed-drying the crop at a high temperature.
A high temperature / high speed drying process causes the chlorophyll to be trapped in the leaf, giving it the green color that candela wrappers are famous for.
In the past, Ecuadorian Candela Wrappers were used on pre-embargo cigars.  Fast forward today and it's extremely rare to find this leaf anywhere outside of mass produced machine-made cigars, and some few select high end boutique cigars.
Preparing the Ecuadorian Shade Leaf Wrapper for use:
Our whole leaf tobacco always arrives fresh, but it helps to know how to handle it upon receipt of shipment. To learn more watch our complete video tutorial about Handling & Storage of Whole Leaf Tobacco.
Interested in purchasing a quantity of Ecuadorian Candela Wrapper Leaf at the incredible prices listed below?
Contact us to set up your order now.
EXAMPLE TIERED PRICING:
| | |
| --- | --- |
| LBS | Price |
| 10-19 | $37.00 |
| 20-49 | $35.00 |
| 50-79 | $33.00 |
| 80+ | TBD |