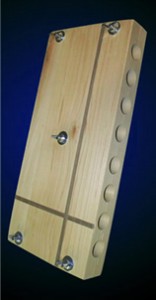 Wooden Cigar Molds | Straight
48 & 56 Gauge Size Cigar Molds, Available Now!
Now Only $51.99
was 54.99 / LB
Wholeaf.com presents the Straight Cut Cigar Mold!  These are made with the cigar hobbyist in mind.  They are easy to use and help to produce professional quality cigars.  The molds are cut fully through and do not have a round cap on the end.
Each cigar mold holds up to 8 cigars.  It can fit cigars of any length from 2 – 6 inches.  (Note: Cigar molds do not include capper ends)
These cigar molds are constructed from hard Ohio maple, which will provide for many years of use.  Compression of the cigar is accomplished by tightening 5 bolts, wingnuts, washers.  Simple, reliable, and effective!
Straight cigar molds are perfect for molding whole leaf tobacco into a cigar shape.
Cigar molds organically designed with a dark walnut inlay… it also looks good!
You may also want to take a look at our Round Cap Cigar Molds | Click Here