Nicaraguan CT Shade Wrapper…
Our Nicaraguan grown CT Shade seed Leaf has a vibrant tan color, and is a very smooth thin body… its not far off from what you'd expect from typical high quality Connecticut Shade Leaf Tobacco.  But the difference here is the price, and in a big way!  Making a great option for any shade leaf smokers / fans who are looking to save some money while still enjoying their favorite type of leaf.
Now Only $52.99 / LB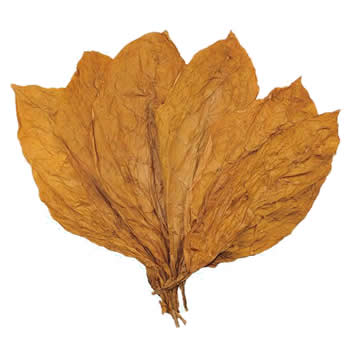 The Nicaraguan CT Shade Wrapper that we carry is grown from the world famous Connecticut Shade Leaf Seed, however it is grown in the fertile soils of Nicaragua.
This incredible version of shade leaf is just like our CT Premium Shade Wrapper. You need to handle this leaf with great care, as it can dry quickly.  Before you start cutting, you may want to moisten the leaf with a towel or other means so that you do not damage the leaf.  This Nicaraguan shade leaf is small veined, so there is no need to roll it out or flatten it.
This taste and body of this Nicaraguan Shade Leaf is very similar to our CT Premium Shade Wrapper.  It's noted for having earth tones that and flavor which makes it stand apart from it's CT grown cousin.  This is another world class shade leaf wrapper, just grown in another part of the world!
Preparing the Connecticut Wrapper for use:
Our whole leaf tobacco always arrives fresh, but it helps to know how to handle  it upon receipt of shipment.  To learn more watch our complete video tutorial about Handling & Storage of Whole Leaf Tobacco.
Interested in purchasing a quantity of Nicaraguan CT Shade Wrapper at the incredible prices listed below? Contact us to set up your order today!
EXAMPLE TIERED PRICING:
| | |
| --- | --- |
| LBS | Price |
| 1-9 | $52.99 |
| 10-19 | $46.00 |
| 20-49 | $44.00 |
| 50-99 | $42.00 |
| 100-199 | $40.00 |
| 200+ | TBD |