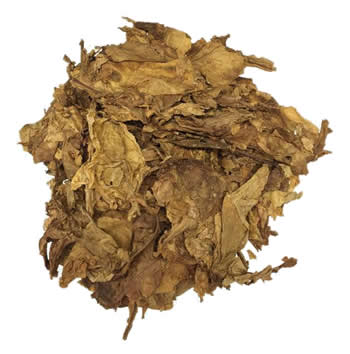 Krumovgrad Bulgarian Oriental Tobacco Leaf
Now Only $29.99 / LB
Krumovgrad Bulgarian Oriental tobacco leaf is very similar to Basma, a tobacco leaf that is golden yellow/brown and grown in Bulgaria.  Bulgaria is a country with a tradition of production of high-quality tobacco.  Krumovgrad Oriental is a quick-growing, shorter, and smaller-leafed tobacco that has a sweet, pleasant flavor plus a smooth burn that oriental tobaccos are known for.
Basma is a word in Turkish that means 'to compress.'  That is an excellent way to describe this leaf because it is often pressed into bales.  This Krumovgrad Oriental tobacco leaf has a similar size and aroma to Yenidje oriental.  This delicate tobacco leaf has a very floral taste and aroma.  Krumovgrad Oriental is an incredibly light-smoking leaf and pairs exceptionally well with many lighter-tasting leaves, such as the Canadian Virginia Flue Cured.
Interested in purchasing a quantity of Krumovgrad Bulgarian Oriental Tobacco Leaf at the incredible prices listed below? Contact us to set up your order now.
EXAMPLE TIERED PRICING:
| | |
| --- | --- |
| LBS | Price |
| 10-19 | $26.00 |
| 20-49 | $24.00 |
| 50-99 | $22.00 |
| 100-199 | $20.00 |
| 200-499 | $19.00 |
| 500+ | TBD |