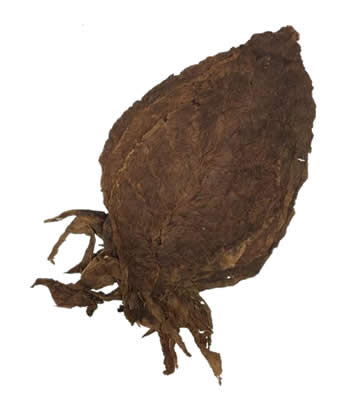 Nicaraguan Seco Ometepe | Cigar Long Filler Tobacco Leaf
Now Only $24.99 / LB
Our Aged Nicaraguan Seco Ometepe cigar long filler leaf is used in many premium hand-rolled cigars. The Nicaraguan Seco Ometepe is a tobacco leaf from the fourth or fifth priming, so this Seco tobacco leaf is thinner than the ligero version of this leaf even though it's grown from the same Criollo 98 seed.
This leaf is grown on the Island of Ometepe in Nicaragua. This 107 square mile island is located in Lake Nicaragua, which is known for its strong yet also sweet, earthy tasting tobacco.  This tobacco leaf is grown in rich soil created by two volcanos on the island: Madera and Conception.
This volcanic soil is naturally mixed with a high level of of humidity and fresh water because it's being completely surrounded by the lake.  These environmental factors result in a uniquely sweet and spicy tobacco leaf.
These are All Natural Tobacco Leaves for Cigar Fillers.  Nicaraguan fillers are world famous for their incredible flavor.
This tobacco's home soil and climate creates a unique flavor and "kick" that many cigar smokers are familiar and have fallen in love with.
Nicaraguan Seco Ometepe Long Fillers are always aged to perfection.
Seco is the milder of the available cigar long filler leaves.  Traditionally the seco is what makes up the body of the cigar because the leaves are smaller and thinner and can fit more in smaller area.  Ligero tobacco is known for providing a 'kick' to your cigar blend.
This tobacco leaf is grown from the Criollo 98 tobacco seed, which is from the area of Ometepe, Nicaragua.
Be sure to try leaf that is similar or blends with the Nicaraguan Seco Ometepe: Nicaraguan Seco Condega, Dominican Seco Piloto Cubano, Nicaraguan Seco
Interested in purchasing a quantity of aged Nicaraguan Seco Ometepe Cigar Long Filler Tobacco Leaf at the incredible prices listed below?  Contact us to set up your order now.
EXAMPLE TIERED PRICING:
| | |
| --- | --- |
| LBS | Price |
| 10-19 | $22.00 |
| 20-49 | $20.00 |
| 50-99 | $18.00 |
| 100-199 | $16.00 |
| 200-499 | $15.00 |
| 500-999 | TBD |