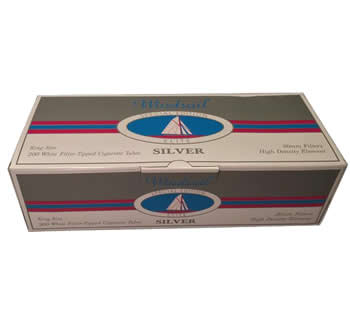 Windsail Silver King Size Cigarette Tubes
– 200 Count Cartons Only $3.99
After having received a plethora of customer requests, we now carry the Elite level of Windsail cigarette tubes for RYO/MYO cigarette fanatics!  available in two sizes; 100's, and standard king size. 200 cigarette tubes come packed per box.
Windsail Elite tubes are made with a crisp white paper and filters. These tubes are perfect for making higher end cigarettes everyday!  Windsail is known for making some of the best rated cigarette tubes, but has a price tag comparable to generic brands.
Why buy tubes elsewhere when they can arrive safely in your package of whole leaf tobacco and other accessories?
King Size Cigarette Tubes by Windsail are some of the best quality tubes available on the market today.
We highly recommend using either the Powermatic Electric Tobacco Shredder or the Manual Tobacco Leaf Cutter coupled with the Powermatic Electric Cigarette Injector for the most convenient cigarette making experience.
Using King Size Cigarette Tubes is an excellent way to save money on tobacco.
Be sure to also check out Windsail's 100's Size Cigarette Tubes