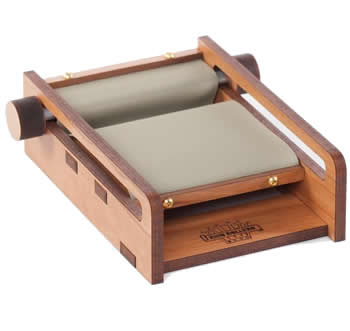 Ace Handcrafted Cigarette Roller Machine
Now Only $69.99
The Ace Handcrafted Cigarette Roller Machine is handcrafted from wood with love.  This amazingly convenient cigarette rolling machine works with all standard size rolling papers and RYO prepared tobacco to produce consistently perfect 3″ size cigarettes.
If you like your cigarettes with a filters or crutch, then you will be right at home.  This cigarette roller takes only a couple minutes to learn how to use and it will last you a lifetime.
This Ace Handcrafted Cigarette Roller is truly easy to use. And in mere minutes you will be rolling cigarettes like a professional.  It's compact and convenient travel size, makes it easy to take along on adventures or wherever you may go!  And if it never leaves your house, it still looks great on your table or shelf.  Your guests will love to ask you about it!
This cigarette rolling machine is made from 100% cherry wood veneer in the USA. This Ace Roller measures roughly 5.5″ x 5.5″ x 1.25″, and weighs 8 oz.