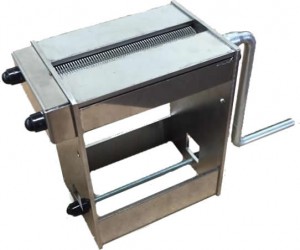 Tabletop Fine Cut Shredder
Now Only $121.99
After many customer requests, we at are proud to be carrying this higher quality tabletop fine cut shredder.  The quality craftsmanship of this product is only outdone by its superb performance.
Some of the highlights of this tabletop fine cut shredder are:
Purpose Built Tobacco Shredder
0.8mm Strand Thickness
Solid Steel Construction
Manual or Automatic Operation
Adjustable combs made of stainless steel
Bushings with increased wear resistance
The most interesting feature, besides the excellent build quality, is the ability to switch from manual or automatic use. The handle (included) easily comes off and can be replaced with an automatic screw driver/drill.