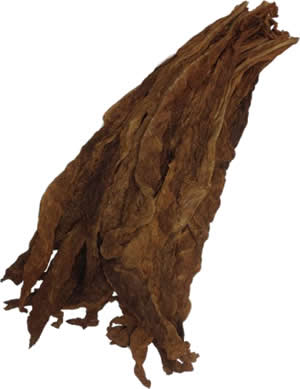 Aged Dark Air Cured Fronto [S1]
Now Only $26.99 / LB
This particular Dark Air Cured Fronto Leaf is aged to perfection, bringing out a dark chocolate taste/color.
Aged Dark Air Cured Fronto leaves have a mild chocolate, but freshly green scent matching their natural aesthetic.
Aged Dark Air Cured Fronto leaves are thick, easy to handle, and are great as "roll your own" tobacco.
Fronto tobacco leaf, also known as grabba leaf, is renowned for it's strong/bold smoke.
Despite the thickness and strength of this tobacco leaf, it burns evenly, tastes smooth and produces a clean ash.
Aged Dark Air Cured Fronto leaf is for tobacco enthusiasts with an acquired taste.
Preparing the leaf for use:
Our whole leaf tobacco always arrives fresh, but it helps to know how to handle  it upon receipt of shipment.  To learn more watch our complete video tutorial about Handling & Storage of Whole Leaf Tobacco.
Interested in purchasing a quantity of Aged Dark Air Cured Fronto Leaf at the incredible prices listed below? Contact us to set up your order today.
EXAMPLE TIERED PRICING:
Price/LB
Now Only $19.99 -was $22.99 -Wholesale pricing for bulk purchases no longer available.