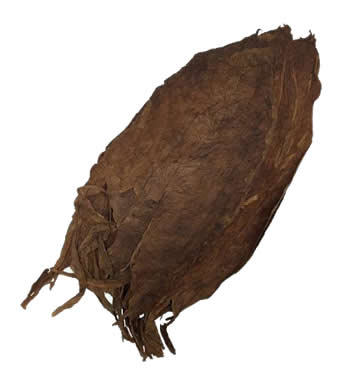 Nicaraguan Ligero Esteli | Cigar Long Filler Leaf
Now Only $24.99 / LB
Nicaraguan Ligero Esteli cigar filler leaf offers a unique flavor and kick that cigar smokers adore worldwide. And it's all thanks to Nicaragua's soil and climate that is responsible for producing this level of quality and type of flavor.  This Criollo 98 seed-grown variety was grown in the Esteli area of Nicaragua.
Our Nicaraguan Ligero Cigar Long Filler is aged to perfection, it doesn't get better than this…  being thicker and stronger than the other filler types from Nicaragua, this ligero Esteli leaf is what provides the classic bold flavor and spice in many of today's most popular premium cigars… and this one does it better than ligero tobacco grown in other regions!
These are leaves from the last priming of the tobacco plant, so this Nicaraguan Ligero tobacco leaf is just plain thicker and stronger than the lighter Nicaraguan Seco Esteli version.
These are All Natural Tobacco Leaves for Cigar Fillers.  Nicaraguan fillers are world famous for their incredible flavor.
This tobacco's home soil and climate creates a unique flavor and "kick" that many cigar smokers are familiar and have fallen in love with.
Nicaraguan Ligero Esteli Long Fillers are always aged to perfection.
This kind of Nicaraguan tobacco is aged perfectly, and is stronger than it's Nicaraguan Seco counterpart.  Ligero tobacco is known for providing a 'kick' to your cigar blend.
This tobacco leaf is grown from the Criollo 98 tobacco seed from the area of Esteli, Nicaragua.
This Nicaraguan Ligero is grown high up in the valley, with rich black soil and a lot of sun, which results in a strong / thick leafed cigar filler tobacco!
Be sure to try leaf that is similar or blends with this Ligero – Nicaraguan Tobacco: Nicaraguan Ligero Jalapa, Nicaraguan Seco Esteli
Interested in purchasing a quantity of aged Nicaraguan Ligero Esteli Cigar Long Filler Tobacco Leaf at the incredible prices listed below?  Contact us to set up your order now.
EXAMPLE TIERED PRICING:
| | |
| --- | --- |
| LBS | Price |
| 10-19 | $22.00 |
| 20-49 | $20.00 |
| 50-99 | $18.00 |
| 100-199 | $16.00 |
| 200-499 | TBD |