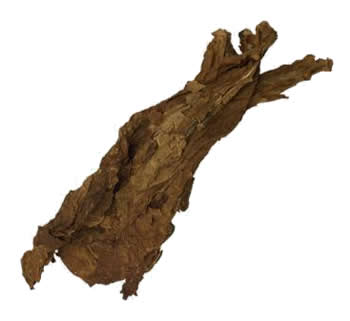 Burley Leaf Tobacco
Now Only $19.99 / LB
Grade A, all-natural burley leaf tobacco is a unique leaf used for similar purposes as Canadian Virginia Flue Cured, as it is only available in a chopped format.  Our Uncut Burley leaf is grown in the state of Michigan.
Also known as 'light air cured' and is used as a counterpart to Virginia Flue Cured in many cigarette blends.
Occasionally Burley leaf is used as cigar filler for pipe blends or chewing tobacco leaf.
Whole-leaf tobacco with a classic smell and taste of high-quality Burley leaf.  This is a burley tobacco that has a smooth but robust flavor profile.
Not a wrapper-grade leaf, as it is not handled in the same way, but it is also not considered commercial-grade chopped burley either.
To prepare these leaves for 'roll your own' use, you will need a tobacco leaf cutter (coming soon).  For those without a cutter, you can still shred it by hand.
RYO cigarettes guarantee a commercial processor hasn't handled the contents.
Interested in purchasing a quantity of Uncut Burley Leaf Tobacco at the incredible prices listed below?  Contact us to set up your order now.
EXAMPLE TIERED PRICING:
| | |
| --- | --- |
| LBS | Price |
| 10-19 | $14.00 |
| 20-49 | $12.00 |
| 50-99 | $10.00 |
| 100-199 | $9.75 |
| 200-499 | $9.00 |
| 500-999 | ? |