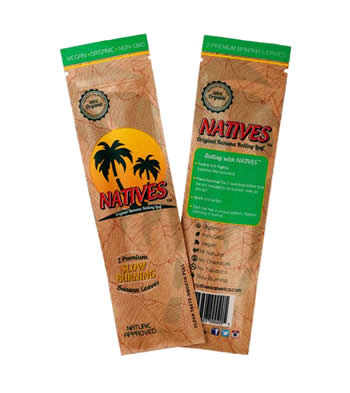 Natives Banana Rolling Leaf Pouch – 2 Leaf Wraps Per Pack
– Now Only $3.99 / Pack
– Box of 12 Only $41.99 [$3.50 / pack]
Natives Banana Rolling Leaf Packs are organic and vegan consumer friendly. This is a completely tobacco and GMO free rolling leaf product.  Even the sealing gum / glue is completely plant based. Native's Banana Leaves are known for having a slow, and smooth burn and pull.  And they taste great without the typical harshness of traditional cigar wraps you find on the store shelves. You get two banana rolling leaf (2) wraps per pack.
Organic

Vegan

Non-Gmo

Tobacco Free

No Chemicals

Slow Burning

Smooth Pull
"Indigenous Natives around the world continue to live off the land and in harmony with nature. Our passion lies in reconnecting smokers with these customs through spreading good vibes and good ingredients in today's modern world."
NATIVES began in Los Angeles, California with the mission to bring consumers a premium rolling leaf product without all of the harmful ingredients traditionally found in other rolling products. Their inspiration is rooted in healthier lifestyle options – fitness, veganism and enjoying the outdoors.  NATIVES Original Banana Rolling Leaf™ is their flagship banana rolling leaf product made with only the highest quality ingredients to bring you a vegan, organic smoking experience minus the tobacco.
Natives takes the time to hand-select and put all of their banana leaves through a patent pending 'quality control' process to ensure they deliver an only the best smoking experience.