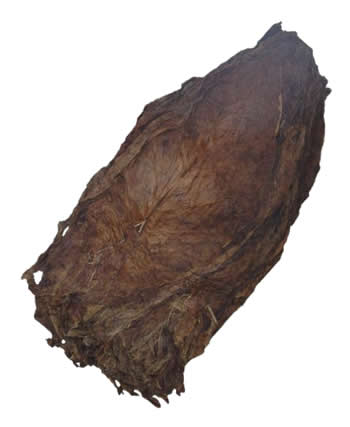 Nicaraguan Viso Jalapa | Long Filler Tobacco Leaf
Now Only $24.99 / LB
Our Aged Nicaraguan Viso Jalapa Long Filler is a premium cigar filler used in many hand-rolled premium cigars around the world.
Being a leaf from the middle priming stage, our Nicaraguan Viso tobacco leaf is all around thinner than its ligero tobacco leaf cousin, but its still thicker than the Nicaraguan seco leaf.
These are All Natural Tobacco Leaves for Cigar Fillers.  Nicaraguan fillers are famous around the globe, and for a good reason!
Their home soil and climate creates a distinct flavor and a certain "kick" that many cigar smokers know and have come to love.
Our Viso Long Fillers are always aged to perfection.
Being a mid-range filler type of leaf, this viso adds a combination of body and flavor to a cigar.
When bunched together like cigar filler leaves are when rolling a cigar, Viso and Seco tobacco leaves make up most of the filler in a hand-rolled cigar, while the ligero tobacco gives it more of punch or boldness of flavor.
These leaves arrive packed in flat stacks ready for use. The benefit of this format are that you can immediately roll these leaves into a cigar binder rather than spending time sorting the leaves out and processing.
Be sure to try leaf that is similar or blends with the Nicaraguan Seco: Nicaraguan Ligero Jalapa, Dominican Seco Piloto Cubano, Dominican Ligero Piloto Cubano
| | |
| --- | --- |
| Approximate # of leaves per pound: 150 | Approximate leaf dimensions: 11in x 7in |
Interested in purchasing a quantity of aged Nicaraguan Viso Jalapa Long Filler leaf at the incredible prices listed below?  Contact us to set up your order now.
EXAMPLE TIERED PRICING:
| | |
| --- | --- |
| LBS | Price |
| 10-19 | $22.00 |
| 20-49 | $20.00 |
| 50-99 | $18.00 |
| 100-199 | $16.00 |
| 200-499 | $15.00 |
| 500-999 | TBD |