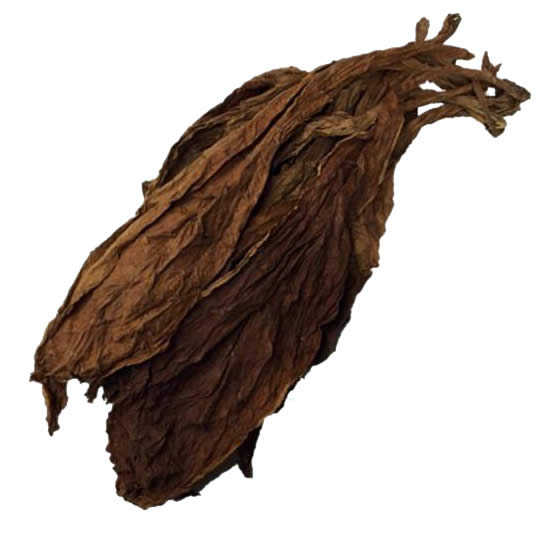 Organic Burley Tobacco Leaf
Now Only $23.99 / LB
This Organic Burley leaf has an even darker, more red/brown color, and packs a more of a robust flavor that American tobacco blends are famous for. This leaf carries an incredibly distinct scent, unique to American grown Burley leaves.
USDA Certified Organic Burley Tobacco is now available at Wholeaf Tobacco!  This organic burley leaf is grown in the USA, and for those that are familiar with our conventionally grown uncut burley tobacco, you will know exactly what to expect with this leaf, except it's better… it's organic!
We are also offering lighter tobacco leaves, like the Canadian and American Certified Organic leaf to blend this tobacco with because by itself, this organic burley leaf tobacco is usually a bit too strong for most smokers.
Burley Leaf is commonly used in cigarette, pipe, and hookah tobacco blends.
Minor spots or discolorations on Burley leaves are normal and are no cause for concern.
Although this tobacco leaf is "uncut", we do not consider it a wrapper grade leaf because it is not handled in the same fashion as the whole cigar leaves.
You can enjoy your smoke with peace of mind knowing that this leaf has never been handled by commercial processors, and was grown and handled totally ORGANICALLY!
Interested in purchasing a quantity of Organic Burley Tobacco Leaf 
at the incredible prices listed below?
Contact us
to set up your order today!
EXAMPLE TIERED PRICING:
| | |
| --- | --- |
| LBS | Price |
| 10-19 | $18.00 |
| 20-49 | $17.00 |
| 50-99 | $15.00 |
| 100-249 | $14.00 |
| 250-999 | $13.00 |
| 1000+ | $11.00 |