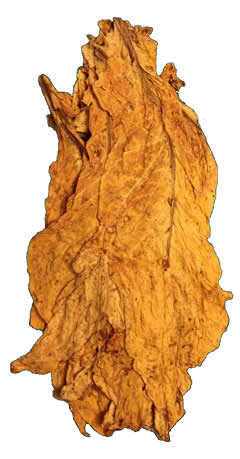 Organic American Virginia Flue Cured Tobacco
Now Only $23.99 / LB
USDA Certified Organic American Virginia Flue Cured Tobacco is now available through Wholeaf.com!
After years of research and development, we have become certified to hold and sell organic tobacco.  We have also found quality sources for our very first organic whole leaf tobacco selection.
This leaf is originally grown in America.  If you are familiar with our American Virginia Flue Cured, you will know what to expect from this tobacco.  Except you can prepare yourself for a higher quality, and more enjoyable tobacco, with a more pungent flavor than the standard offering.
American Virginia Flue Cured Tobacco is commonly used in hookah, pipe and cigarette tobacco blends.
This beautiful organic tobacco has a darker, more red/orange color, and has a fuller flavor that most American tobacco blends are notorious for.  MInor spots and discolorations are normal.
Also called Brightleaf Tobacco, Virginia Flue Cured Tobacco is one of the commonly used leaves in the industry as a major component in cigarette, hookah and pipe blends.
This Organic American Virginia Flue Cured Leaf is not wrapper grade, as it is not regularly handled with the same care.
We also have a lighter version of this leaf available that you can blend with this, called Organic Canadian Virginia Flue Cured Tobacco Leaf
Roll your cigarettes with whole leaf tobacco, and have confidence that the contents haven't been handled by a commercial processor.
Interested in purchasing a quantity ofOrganic American Virginia Flue Cured Tobacco 
at the incredible prices listed below?
Contact us
to set up your order today!
EXAMPLE TIERED PRICING:
| | |
| --- | --- |
| LBS | Price |
| 10-19 | $19.00 |
| 20-49 | $18.00 |
| 50+ | $17.00 |