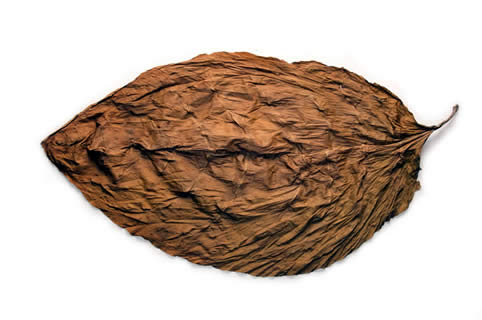 Ecuadorian Shade Leaf | Seco Wrapper…
Now Only $48.99 / LB
Ecuadorian Shade Leaf is mild, thin, and smooth!  This is a popular strain that is very similar to the Connecticut Wrapper form of shade leaf yet it is darker and thicker in comparison.  It looks like a cross of the Connecticut Shade and Havana leaves.

Ecuadorian Shade Leaf Wrappers are heralded in the cigar manufacturing leaf as a premiere wrapper leaf.
Light & Large, RYO smokers will be happy as these are very easy to roll with.  The Ecuadorian Seco Shade Leaf wrappers are much larger than they appear in the photos!
Ecuadorian Shade Leaf arrives tied in hands, ready to be processed like any wrapper grade leaf.
Be sure to use care when handling shade grown tobacco as it is more fragile than sun grown leaf (Maduro or Oscuro for example).
Ecuadorian Shade Leaf is grown in a consistently cloudy environment in the hills of Ecuador.  The clouds diffuse the light similar to the way a shade tent would be used to grow shade leaf in Connecticut… except it does it naturally!
Preparing the Ecuadorian Shade Leaf Wrapper for use:
Our whole leaf tobacco always arrives fresh, but it helps to know how to handle it upon receipt of shipment. To learn more watch our complete video tutorial about Handling & Storage of Whole Leaf Tobacco.
Interested in purchasing a quantity of Ecuadorian Shade Leaf Wrapper [Seco] at the incredible prices listed below?
Contact us to set up your order now.
EXAMPLE TIERED PRICING:
| | |
| --- | --- |
| LBS | Price |
| 10-19 | $35.00 |
| 20-49 | $33.00 |
| 50-99 | $30.00 |
| 100-199 | $25.00 |
| 200-499 | $22.00 |
| 500-999 | $20.00 |
| 1000+ | $19.00 |