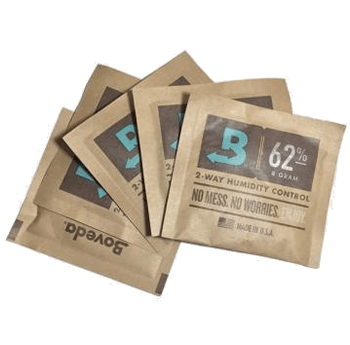 These 8 gram Boveda Packs [62% Relative Humidity] can be used to keep your leaves fresh and are useful for many other things as well, including Cannabis and hemp flower!
These 2-way Boveda packs absorb and emits purified water vapor through a semi-permeable membrane so that it does not damage material through direct contact with moisture.
Small 8 gram Humidification packs.
62% Relative Humidity level packs.
Perfect for herbal medicine or small home rolled cigars.
This size is recommended for small quantities of leaf. For larger amounts, use either of the 60+ gram units that are good for use with up to 1 LB of tobacco.
5 Boveda Packs – 8 Gram Packs [62% RH] for just $6.99!