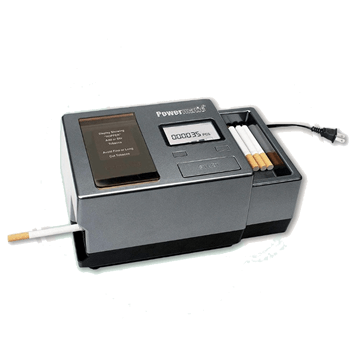 Powermatic 3: Electric Cigarette Injector Machine
Now Only $279.99
The Powermatic 3 is the latest in the highly successful and reliable line of cigarette injector machines.  Powermatic is known for making the highest quality machines for this purpose!
It will easily roll whole leaf tobacco that's been shredded by either the Powermatic Electric Tobacco Shredder, the Manual Tobacco Leaf Cutter or almost anything else you will throw at it.
With a hopper that holds enough tobacco to make up to 32 cigarettes per fill, the Powermatic 3 makes injecting cigarettes an ease with the simple push of a button.
The Powermatic 3 Electric Cigarette Making Machine comes with a limited 1-year or 20,000 cigarette warranty.
NOTE: This machine DOES NOT WORK with Ultra Slim cigarette tubes.