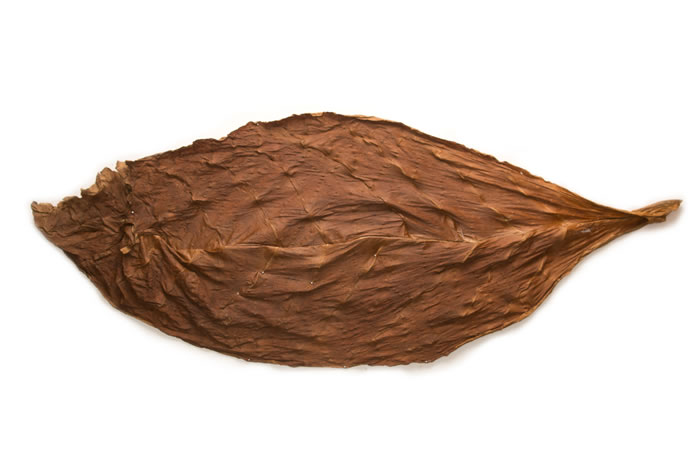 Dark Air Cured Fronto Leaf [CLO]
Now Only $24.99 / LB
Dark Air Cured Fronto [CLO] is most often used as a cigar wrapper, binder or filler.  Non-cigar smokers enjoy this leaf for wrapper purposes.  These leaves are larger, lighter and milder than the American grown version of this leaf (GR & ALO).Fronto leaf can be found for sale at convenience stores in urban/metro areas and is enjoyed by various world cultures and regions. Dark air cured tobacco leaves are high quality & very similar to fronto leaves being sold for wrapper use in the Caribbean.
These Dark Air Cured Fronto leaves harvested fresh from the farm!
Dark Air Cured Fronto has a mild chocolate, but freshly green scent matching it's natural aesthetic.
Fronto leaves are thick, easy to handle, and are great as "roll your own" tobacco.
Fronto leaf is also often times called grabba leaf, which is famous for it's strong / bold flavor profile.
Despite the thickness and strength of this tobacco leaf, it burns evenly, tastes smooth and produces a clean ash.
Dark Air Cured Fronto is for tobacco enthusiasts with an acquired taste.
* Dark Air Cured Fronto is unrefined, meaning that some leaves have imperfections such as holes, torn strips, and discolorations.
PREPARING THE LEAF FOR USE:
Our whole leaf tobacco always arrives fresh, but it helps to know how to handle it upon receipt of shipment. To learn more watch our complete video tutorial about Handling & Storage of Whole Leaf Tobacco.
Interested in purchasing a quantity of Dark Air Cured Fronto Leaf [CLO] at the incredible prices listed below? Contact us at 1.802.776.8983 to set up your order today!
EXAMPLE TIERED PRICING:
| | |
| --- | --- |
| LBS | Price |
| 10 LBS and up | $23.99 |