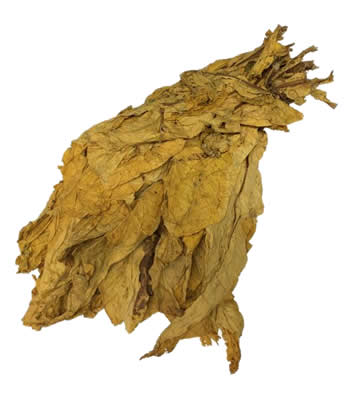 American Virginia Flue Cured
Now Only $18.99 / LB
Latest years crop!  Lighter & smoother than last year's crop, yet it retains its distinctly American flavor!
Our USA-grown Virginia Flue Cured Tobacco leaf is as fully flavored as it gets!  This fine tobacco leaf arrives with your familiar cigarette tobacco smell and produces smoke similar to that of a Marlboro.
Fresh from the farm American Virginia Flue Cured tobacco is a unique variety.  In the marketplace, it's usually available pre-processed (chopped) and only in large quantities.  Now you can enjoy the whole leaf, unadulterated by any commercial processes.
Commonly used in hookah, pipe, and cigarette tobacco blends.
Smooth smoke, robust flavor.
Also called Brightleaf Tobacco, Virginia Flue Cured Tobacco is one of the most commonly used leaves in the industry as a significant component in cigarette, hookah, and pipe blends.
This leaf is not considered a wrapper grade leaf, as it is not regularly handled with the same care.
Roll your cigarettes with whole leaf tobacco, and have confidence that a commercial processor hasn't handled the contents.
Be sure to look at our other flue-cured tobacco: Canadian Virginia Flue Cured tobacco.
Interested in purchasing a quantity of American Virginia Flue Cured Tobacco at the incredible prices listed below? Contact us to set up your order now.
EXAMPLE TIERED PRICING:
| | |
| --- | --- |
| LBS | Price |
| 10-19 | $15.00 |
| 20-49 | $13.00 |
| 50-99 | $11.00 |
| 100-199 | $10.00 |
| 200+ | $9.00 |