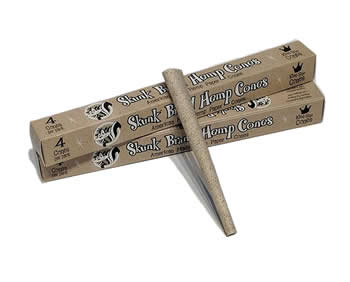 Skunk Brand American Made Hemp Pre-Rolled Cones
1 Booklet Only $2.49
Skunk Brand American Made Hemp Pre-Rolled Cones are the newest product out from the world famous Skunk Brand… and it may just be the very first of it's kind available in the rolling paper market.on the market. 
These unique looking pre-rolled hemp cones by Skunk are made in Nevada from 100% American grown hemp.  You get 4 King Sized Hemp Cones with filters per box.
These Skunk Brand Hemp Cones make rolling all your favorite herbs and tobaccos easier than ever, in a non-paper / non-tobacco alternative.  These cones burn slow, somewhere between a blunt and a joint.  Enjoy this 100% USA made product, to maximise your smoking pleasure!