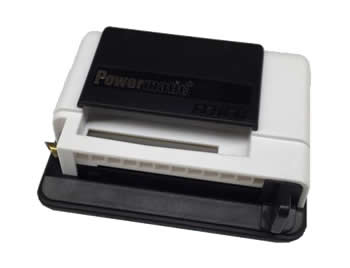 Powermatic Cigarette Injector | Mini
Now Only $19.99
The conveniently 'Mini' Powermatic Cigarette Injector makes King & 100's size cigarettes.  It easily handles the MYO cigarette tobacco that has been shredded with our tobacco leaf shredder and works like a charm with just about anything you throw in there.
Like all of Powermatic's products, even a small injector such as this has gotten nothing but excellent reviews.  Certainly, it's not as robust as the Powermatic 1 or the Powermatic 2, but this powermatic cigarette injector is absolutely perfect as a beginners machine, a backup, or a travel machine.
Anyone who has had experiences with other injectors will certainly appreciate the quality of this machine!
The Powermatic Cigarette Injector (Mini) machine comes complete with instructions, a cleaning probe and a brush.
Even though it's small enough to go with you anywhere, this machine is still very robust!
Using this mini Powermatic Cigarette Injector is as easy as one-two-three!
Disclaimer: The following demonstration video was not filmed by Wholeaf.com