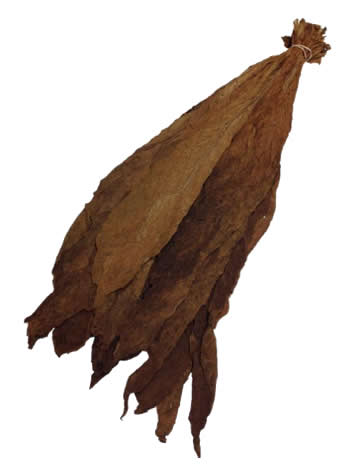 Pennsylvania Binder Leaf Tobacco
Now Only $18.99 / LB
Our Pennsylvania Binder Leaf Tobacco was grown on good old American soil, but sent to the Dominican to be darkened and sorted.  The tropical environment of the Dominican adds a beautiful dark color to this leaf that is very much like our Pennsylvania Oscuro wrapper leaf. 
This Pennsylvanian Cigar Binder leaf is a beautiful dark leaf – it's of a very high quality for a binder grade leaf.
Thin, yet durable, the PA binder leaf does not have large veins and binds cigars to the point of perfection, even before the final wrapper is applied.
As a medium to bold smoking tobacco leaf, PA tobacco is known for it's combination of quality & affordability.
One of the cleanest binders we've ever seen hands down.  This grade has PLENTY of wrapper to be found per pound.  Most leaves have only very minor imperfections – many without any imperfections at all.  What a bargain at this price!
| | |
| --- | --- |
| Approximate # of leaves per pound: 40 | Approximate leaf dimensions: 25in x 11in |
Interested in purchasing a quantity of Pennsylvania Binder leaf at the incredible prices listed below? Contact us to set up your order today!
EXAMPLE TIERED PRICING:
| | |
| --- | --- |
| LBS | Price |
| 10-19 | $18.00 |
| 20-49 | $16.50 |
| 50-99 | $15.00 |
| 100-299 | $14.00 |
| 300-599 | $13.00 |
| 600-1199 | $12.00 |
| 1200+ | $11.00 |