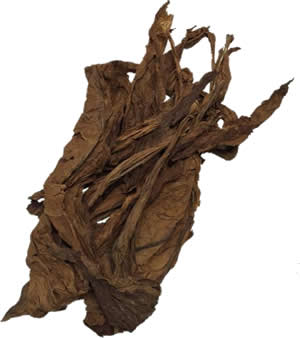 QB52 Fronto Leaf [L]
Now Only $17.99 / LB
was $23.99 / LB
This version of the QB52 Fronto Leaf is mostly used for as 'grabba', because while there may be some sections that are suitable for wrapper, this leaf will mostly not be 'wrapper grade' tobacco. This kind of grabba leaf can be found in urban/metropolitan area convenience stores & specialty tobacco shops. This fronto leaf is basically graded in between what we consider 'scraps' and our standard QB52 fronto leaf offering. Whatever you find that is usable for wrapper in this (L) grade will be virtually just as good as the more expensive stuff!  
This leaf is somewhat lighter color/thickness in comparison to our Dark Air Cured Fronto Leaf.
This QB is a slightly lower grade of tobacco, making it a bit less expensive.  A bonus aspect of the QB52 Fronto (L) is that it is from the 2009 crop, which makes it darker and 'aged' which is a preference among many of our customers.
This fronto leaf is excellent for 'grabba', cigar wrapper leaf, binder, and filler blends.
Our QB52 Fronto Leaves are shipped tied in into bundles, and are notable for their light tobacco scent.
QB52 fronto leaves are easy to handle, and fun to work with.  Positive feedback about this leaf has revealed it as a favorite amongst whole leaf tobacco & cigar enthusiasts around the world.
The QB52 fronto / grabba leaf provides a clean and smooth smoking experience.
Fronto leaf tobacco is also known as grabba leaf or fanta leaf. Customer preference varies by the individual, so be sure to explore your options and give all of our wrapper varieties a chance, to find the right tobacco leaf for you!
Preparing the leaf for use:
Our whole leaf tobacco always arrives fresh, but it helps to know how to handle it upon receipt of shipment. To learn more watch our complete video tutorial about Handling & Storage of Whole Leaf Tobacco.
Interested in purchasing a quantity of QB52 Fronto Leaf (L) at the incredible prices listed below?  Contact us at 1.802.776.8983 to set up your order today.
EXAMPLE TIERED PRICING:
| | |
| --- | --- |
| LBS | Price |
| 10-19 | $16.00 |
| 20-49 | $15.00 |
| 50-99 | $14.00 |
| 100-199 | $13.00 |
| 200-499 | $12.00 |
| 500-999 | $11.00 |
| 1000+ | TBD |