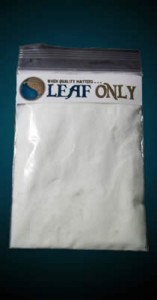 Cigar Glue | Gum Arabic & No Acid / Pectin
Now Only $3.99
was $5.99 / LB
Cigar glue is a difficult to find commodity that is not regularly available on the internet.  Our friends at Leaf Only have formulated an adhesive cigar glue for all of your cigar rolling and sealing needs.
100% naturally derived from all natural, no-acid fruit pectin or gum arabic!
Easy to mix, use, and roll.
Just a finger dab is enough for one cigar.  This one ounce package is enough to seal over 200 cigars.
Instructions on mixing included.  Basic cigar mixture is 1 part cigar glue powder and 2 parts water.
Mix it to your own personal preference, it does not have to be exact!